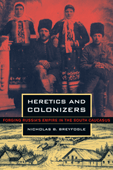 Heretics and Colonizers:




Forging Russia's Empire in the South Caucasus


by Nicholas Brenton

Breyfogle

, Ph.D. (history) — This book includes some revised chapters from the dissertation (next below) as well as four completely new chapters which deal with things like economic life in Transcaucasia, the Dukhobors' pacifist movement, and Molokan and Dukhobor emigration. It also includes all sort of new information based on my archival research in Tbilisi that was not in the dissertation. The book also includes 5 maps (one of the South Caucasus, and one each of Molokan and Dukhobor villages in Tilfis, Erivan, Elisavetpol and Baku provinces). There are also 19 images in the book. 6 of which are of Molokans. Cornell University Press, Available February

2005

, 368 pages, 5 maps, 18 halftones (photos), Cloth cover, ISBN 0-8014-4242-7,

$49.95.

Read more....



Heretics and Colonizers: Religious dissent and Russian colonization of Transcausasia, 1830-1890 (Azerbaijan, Armenia, Georgia) by Nicholas B.

Breyfogle

, 387 pages,

1998

.

Ph.D. thesis

summarizing a year's research in 5 archives examining the settlement of Russian religious dissenters (Dukhobors, Molokans, and Subbotniks) in Transcaucasia from 1830 to 1890. Tsarist officials moved only sectarians (sektanty) to Transcaucasia, not Orthodox, to isolate their "heretical infection". The plan backfires when they become "colonizers", vigilantes, and agents of the Tsar. New information on 30 Molokans named, several heroes, the Pryguny, protection (thousands get guns), famine (2,000 die in one village), prosperity (1/4 sq. mile given per family), and more. $21.50 PDF download, $30 unbound, $38.50 soft-bound, or $46 hard-cover, only from UMI, online,or by phone: 1-800-521-3042. Use order number 9840175 Read more.

Crime and Immigrant Youth, by Tony

Waters

, 224 pages,

1998

. From a Ph.D. thesis in sociology, The cross-generational socialization of immigrant youth, which examines why crime develops among some immigrant groups and not others. Investigates Laotians, Koreans, Mexicans and Molokan Russians in California. It includes 1920's data from Young about Molokan youth gangs in the LA Flats. Numerous examples show how misunderstandings between immigrant parents and their children provide conditions for a predictable outbreak of crime. "The Los Angeles police were aggressively pursuing gangs of Russian outh who had developed a reputation for fighting and stealing." Concludes Laotians and Molokans are most similar. $22 + tax in paperback online and at any bookstore. Read more.

The Russians' Secret: What Christians Today Would Survive Persecution? by Peter

Hoover

and Serguei V.

Peterov

, 247 pages,

1999

. Petrov is Molokan. Russian sectarian history from the Raskol (mid-1600s) to the beginning of WWII, focusing Religious education in the "Milky Waters" region of "New Russia" in the late 1700s and early 1800s, and persecutions. Much religious thought was introduced by visiting German preachers. $10.25 from Benchmark Press, 1593 Pinola Road, Shippensburg, PA 17257 — Phone: 717-530-8595 — Fax: 717-532-4974, e-mail: < benchmarkpress@juno.com >, no credit cards. Read the entire book FREE.

Beehive History 25 (1999): From Dust to Dust: A Russian Sojourn, by Sarah

Yates

. Reprint of news articles with photos about Molokans who "attempted to start a communal colony in the dry Park Valley in Box Elder County" in Utah in 1914. $4.50 (includes shipping) from: Vanessa Tuckett Utah State Historical Society, Book & Gift Shop, Rio Grande depot, 300 South Rio Grande, Salt Lake City UT 84101-1143. Phone: 801-533-3525, Fax: 801-533-3503, e-mail: < vtuckett@history.state.ut.us >.

The Spirit Wrestlers, by Philip

Marsden

,

1999

. The author searches South Russia and the Northern Caucasus for legendary Old Believers, Molokans, and Doukhobors. He reports first hand what they say and his impressions, mostly about Old Believers. Notable is a letter about the 1863 funeral of Kuzma, a Molokan miracle worker. About $10 plus shipping, only from < www.amazon.co.uk >. Read more.
Brief History of The Church in Russia and the Rise of the Molokan Sect, by Bill M.

Baghdanov

, PhD. 88 pages,

1998

. The creation and evolution of the Molokans is explained within the context of the history of the Russian Empire. In the mid 1600s, attempts to standardize the church caused the schism (raskol). 10% rejected this reform to protect their old rituals, and old beliefs. When the priests of these Old Believers (Stari Very) died off, about half rejected any priest, becoming the Priestless (Bezpopovski). Baghdanov suggests that from this environment arose sectarians (sektanti), religious peasants who rejected the authority of the church. Molokans are several groups within the many (100+) sectarians identified by historians (Postoiannye, Pryguny, Subbotniki, Maksimisti, Oschshie, Khlysti, Skopsti, ...). Using 8 references, and his perspective as a Molokan, Bill lists "factors" to consider for the changes in Russia and what the sectarians, particularly the Molokans, were trying to do with their life on earth. The Appendix contains a list of the Rulers of Russia from 856 to 1917, and a helpful chart plotting sectarian leaders, an evolutionary tree of schismatics and sectarians. $17 soft cover, $37 hard cover, includes shipping, from Bill Baghdanov, 15215 NE 7th Street, Vancouver WA 98684-8124.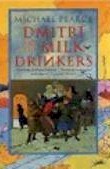 Dimitri and the Milk Drinkers, fictional humor by Michael

Pearce

,

1997

. The young lawyer Dmitri's first job is to find Anna Semeonova, who was taken by mistake from Kursk, near Moscow, to Siberia in a prison wagon in the 1890s. Hundreds of miles into Siberia, he is obstructed by officials and is forced to mingle with the prisoners and to seek the help of the Molokans who Anna joins to escape. Together they expose a massacre of prisoners. Price $12 from The Mystery Book Store, 1433 S. 13th Street, Omaha NE 68108. Phone: 402-342-7343; or £4.79 on-line from < www.Amazon.co.UK >. Available on 6 audio tapes at Australian public libraries. Read more.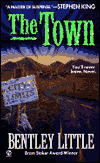 The Town, fictional horror by Bentley (Tolmasoff)

Little

, 376 pages,

2000

.


A novel about Molokans in the fictional Arizona mining town of McGuane, near Tucson. Father wins the lottery, quits his job and his wife quits teaching in Downey. They move their 2 teenagers back to the simple life, until the spooks come out. Their widowed babunia romances the widowed minister, who is killed by a flying Bible. The Heritage Club has a booth at the picnic. The cave hermit spiritual elder knows all. Contains many Molokan facts, and errors. R-rated for profanity, sex and violence. Little was awarded one of the first Heritage Club Scholarships. This is his 10th horror novel. Steven King praises him as "a master chef of the macabre". Read Jason R. Hewlett's review. Read reviews at Amazon.com. Read reviews at BarnesandNobel.com. Price: $6.29 + tax/shipping online and at bookstores.
The Town was originally published in England as Guests 438 pages,

1998

. Price: £4.79 ($7.27) + tax and shipping. Buy only from < www.Amazon.co.UK >. Read a review at FrightNet.
A Stroll Through Russiantown, by George W.

Mohoff

and Jack P.

Valov

, 268 pages,

1996

. 202 photos and illustrations, plus a large (23"x33") color map of landmarks in Bolye Heights, emphasizing the "Flats". The authors quote and extend Young (Pilgrims of Russian-town) and Berokoff (Molokans in America) focusing on social conditions — lifestyle, people (16 photos of athletes), clubs, institutions, and churches (new and old). — religion (9 spiritual incidents, some related to immigration) and the neighborhood landmarks are number referenced to the map. $35 from the UMCA Heritage Room, PO Box 5790, Hacienda Heights, CA 94745; or from George Mohoff, 2221 Via Camille, Montebello CA 90640; phone: 323-721-8610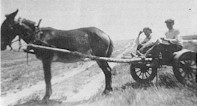 The Russian Colony of Guadalupe Molokans in Mexico. By George W.

Mohoff

, 226 pages,

1995

. 199 photos/illustrations, plus a cross-indexed map of each home in the colony. Everything you should know about Molokans in Mexico is in this book — from V.G. Moloff fleeing the Tsar's army while doing guard duty in St. Petersburg, to land owner-ship, swimming in the river, cowboys and Indians, farm animals, church services, and more. $25 from the UMCA Heritage Room, PO Box 5790, Hacienda Heights CA 91745; or from George Mohoff, 2221 Via Camille, Montebello CA 90640; phone: 323-721-8610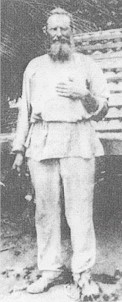 Molokans in Arizona, by Fae Papin-

Veronin

, 124 pages,

1999

. 114 photos/ illustrations and a fold out map showing most all Molokan, Spiritual and Jumper resident's property and houses in 1920. A brief history of the colony with 20 families detailed — a community photo album with some family histories. CoversWWI, WWII, COs, youth groups, the Arizona UMCA, life on the farm for men and women, news clippings, and a note from the author. $35 from the UMCA Heritage Room, PO Box 5790, Hacienda Heights CA 91745. Out-of-print.
Moia Zakavkazskaia Rossiia
[My Transcausaian Russia] by S.E.

Il'in

, in Russian,

1998

. These memoirs of a Molokan about his life and extended family in Molokan villages in Azerbaidjan, were published by the Institute of Ethnology and Anthropology of the Russian Academy of Sciences with assistance from the Highgate Road Social Science Research Station (The Station). Il'in wrote the manuscript after he fled the Caucasus and was nearing retirement as a high school teacher. The Institute was impressed with his descriptive detail. The press run is sold out. $15, postage included from: The Station, 2601 Hilltop Drive, Apt. 217, Richmond, CA. 94806. Phone: 510-262-9189. E-mail: < etheldunn@sbcglobal.net >. Also read Ethel's plea to raise funds to publish this rare book in Soyuz, Cooperation (1997).
Day of the East Wind, fiction by Julia

Shuken

, 256 pages,

1993

, fiction. "An exciting story that features danger and a clash of cultures as one man discovers himself and his identity in Christ amid national revolution in early-1990s Russia." A Christian story of the Molokans adn Jumpers near Kars, the turmoil before the revolution, and preparation to immigrate to America. The lead character Piotr is created from tales about the author's in-laws and other sources. $11 + tax/shipping new online and at any bookstore. Out-of-print. Now many used-book dealers sell it for less than $1. Also check your local libraries.

In the House of my Pilgrimage, fiction by Julia

Shuken

, 256 pages,

1995

, fiction. Sequel to book above. "When Piotr Voloshin escapes to America from the Russian Revolution, he and his family carve out their destiny in California as they begin work on the 226-mile Los Angeles Aqueduct. Braving tragedy and loss, they hope for a reunion with loved ones still trapped in the Russian mountains." A Christian story of the Molokans and Jumpers near Kars, the turmoil before the revolution, and preparation to immigrate to America. The lead character Piotr is created from tales about the author's in-laws and other sources. $13 + tax/shipping new online and at any bookstore. Out-of-print. Now many used-book dealers sell it for less than $2. Also check your local libraries.

L.N. Tolstoi i F. A. Zheltov Perepiska [L.N. Tolstoy and F.A. Zheltov Letters], 155 pages in Russian,

1999

. 22 photos/illustrations. $15 from: Professor Andrew Donskov, Co-ordinator, Slavic Research Group, University of Ottawa, Ottawa, Ontario Canada KIN 6N5 — Phone: (613) 562-5800.ext. 3749 or ext. 1007, Fax: (613) 562-5160 or 5138; e-mail: < SLAVICRE@uottawa.ca >. Or: $15, postage included, from: The Station, 2601 Hilltop Drive, Apt. 217, Richmond, CA. 94806. Phone: 510-262-9189. E-mail: < etheldunn@sbcglobal.net >